Viindoo Retail POS Software is an advanced solution that helps retail businesses enhance customer experience and boost business efficiency. Developed by Viindoo Technology Joint Stock Company (Viindoo), Viindoo Retail POS is an outstanding solution that won the 2023 Sao Khue Award.

Digital transformation is an inevitable trend in the retail industry 

Retail is one of the most important industries in Vietnam. It is also an industry with rapid shifts in customer demand. In the context of intense competition, focusing on customers is an urgent requirement for retailers to gain a competitive edge. Facing this trend, Viindoo has researched and developed Viindoo Retail POS Software, which helps retailers improve customer experience and increase profits.

Viindoo Retail POS is a powerful and modern POS management software

Viindoo Retail POS - A comprehensive digital transformation solution for retailers

Passing a professional and rigorous evaluation, Viindoo Retail POS is one of two Viindoo representatives to receive the prestigious Sao Khue Award in 2023. Being a part of the Viindoo Business Management Software solution suite, Viindoo Retail POS is an effective digital transformation solution for the retail industry.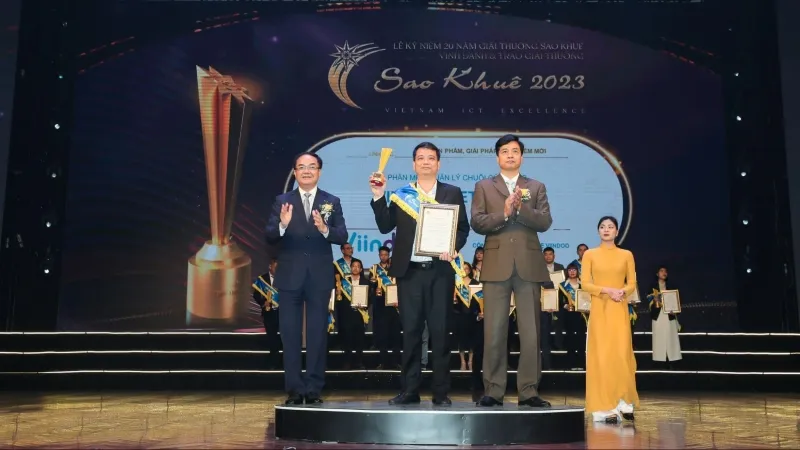 Viindoo is honored to be one of the prominent businesses receiving the 2023 Sao Khue Award
This is an integrated system of advanced tools designed to meet various management functions of retail businesses, including revenue management, inventory management, staff management, invoice and payment management, warehouse management, etc. In addition, Viindoo Retail POS can effectively connect with POS devices (barcode printer, barcode scanner, electronic scale, cash register drawer, etc.) and other devices (PC, Laptop, Ipad, POS monitor, etc.), helping store staff work efficiently and conveniently manage operations.
Viindoo Retail POS's features help managers address retail chain issues such as managing sales processes simultaneously at multiple locations, large stock levels, dispersed staff and financial management, etc. Consequently, retail businesses can enhance customer experience, stabilize the quality of points of sale, and enhance business performance.
Furthermore, Viindoo is a flexible modular structure solution. This allows retail businesses to customize and expand the use of other software tools in the Viindoo software ecosystem according to specific needs. Businesses can combine supporting solutions such as digital marketing campaign management, omnichannel sales management, employee payroll, etc., for more centralized and comprehensive management.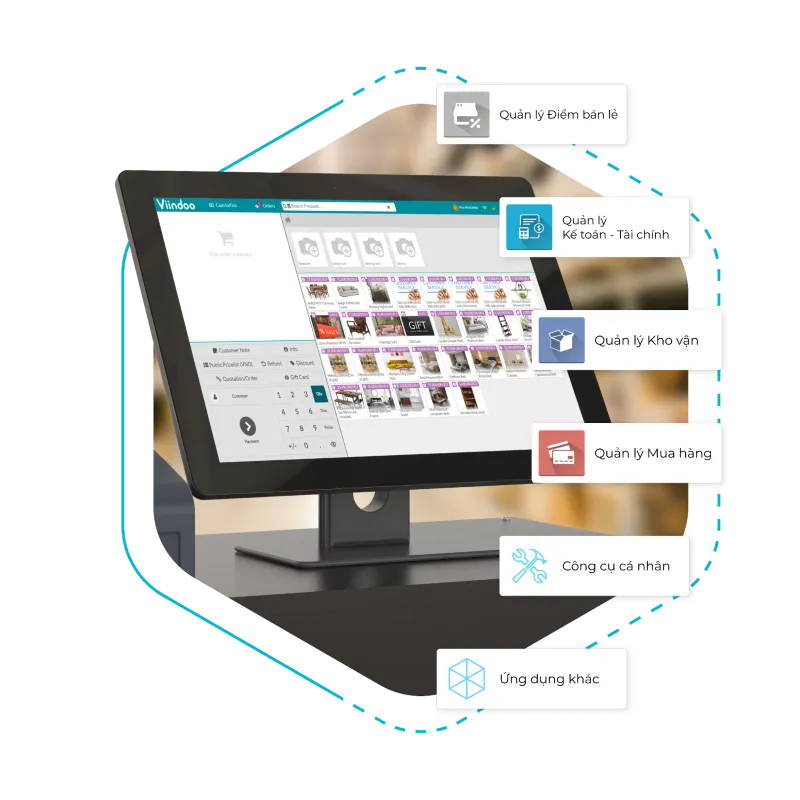 Retail businesses can easily manage centralized tasks on a single platform
Viindoo Retail POS utilizes cloud computing technology, enabling convenient remote access and management of points of sale. With a user-friendly interface and real-time, intuitive reporting system, the software supports users in making accurate decisions. Notably, Viindoo's team of experienced digital transformation consultants is always ready to assist retail businesses in effectively implementing the software.
Deploy Viindoo Retail POS now with the FREE ONE APP package

Currently, Viindoo is offering the One App package, allowing retail businesses to use Viindoo Retail POS Store Management Software for free. This is a cost-saving solution, especially suitable for retail chains starting to apply digital technology to management and operation. With the One App package, businesses can use the Viindoo Retail POS solution for retail stores without limiting the number of users. Thus, businesses can improve sales processes and boost business performance without worrying about costs.
Viindoo Retail POS marks Viindoo's three consecutive year of winning the Sao Khue Award. This is a proud testament to Viindoo's journey in accompanying businesses through digital transformation. It also serves as motivation for Viindoo to continue developing effective digital technology solutions, supporting businesses in applying digital technology to achieve comprehensive digital transformation in the 4.0 era.
Contact information:
Address: 6th Floor, Taiyo Building, 97 Bach Dang Street, Ha Ly Ward, Hong Bang District, Hai Phong, Vietnam.
Hotline: +84 225 730 9838
Email: 
Website: https://viindoo.com