Sales Supplementary Fees

14.0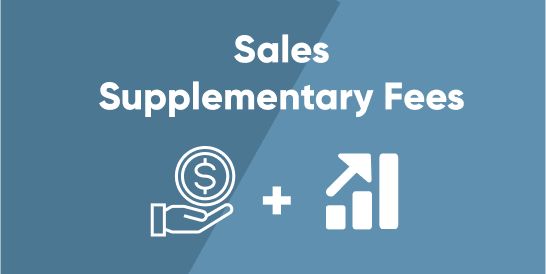 Sales Supplementary Fees
Technical name
to_fee_definition_sale
License
OPL v1.0
Website
https://viindoo.com
Read description for
v

10.0

v

11.0

v

12.0

v

13.0

Required Apps

Invoicing (account)

Discuss (mail)

Included Dependencies
Fee Definition
Key Features
Fee Definition

It is a document to model a fee associated a product during sales / purchases. For example, when you sell a transportation service, you may also want to charge the customer for road toll. In such the case, you could define your service and its associated fees as below:

Transportation Service X: is a service product
Road Toll 1: is another service product that present the Road Toll
On the Transportation Service X, select Road Toll 1 as a fee for the Transportation Service X

Fee is also a Product, hence, it is seamlessly integrated with Odoo accounting
Nested / Recursive Fee structure support. For example,

Transportation Service X may have the following fees structure:

Dirty Cargo handling Fee at terminals. This fee is also a product in Odoo and may have its own fees defined as below

Environment Protection Fee
Cargo Stowage fee

Road Toll during transportation

When calculating fees for the Transportation Service X, this module could offer the following:

Direct Fees: which are Dirty Cargo handling Fee and Road Toll
Sub fees: Environment Protection Fee, Cargo Stowage
Recursive Fees: all the above

Supplementary fees computation on Sales Quotation

A new button "Compute Supplementary Fees" provided on the Sales Quotation form. When user click on the button, Odoo will find recursively all the fees associated with the all the products of sales quotation and adding the into the quotation as new lines
Upon confirmation of the quotation (to make it a sales order), Odoo will check if Supplementary Fees have been added. If not, it will ask user to confirm if Supplementary Fees should be computed and added to the sales order.
Editions Supported
Community Edition
Enterprise Edition
This software and associated files (the "Software") may only be used (executed, modified, executed after modifications) if you have purchased a valid license from the authors, typically via Odoo Apps, or if you have received a written agreement from the authors of the Software (see the COPYRIGHT file).
You may develop Odoo modules that use the Software as a library (typically by depending on it, importing it and using its resources), but without copying any source code or material from the Software. You may distribute those modules under the license of your choice, provided that this license is compatible with the terms of the Odoo Proprietary License (For example: LGPL, MIT, or proprietary licenses similar to this one).
It is forbidden to publish, distribute, sublicense, or sell copies of the Software or modified copies of the Software.
The above copyright notice and this permission notice must be included in all copies or substantial portions of the Software.
THE SOFTWARE IS PROVIDED "AS IS", WITHOUT WARRANTY OF ANY KIND, EXPRESS OR IMPLIED, INCLUDING BUT NOT LIMITED TO THE WARRANTIES OF MERCHANTABILITY, FITNESS FOR A PARTICULAR PURPOSE AND NONINFRINGEMENT. IN NO EVENT SHALL THE AUTHORS OR COPYRIGHT HOLDERS BE LIABLE FOR ANY CLAIM, DAMAGES OR OTHER LIABILITY, WHETHER IN AN ACTION OF CONTRACT, TORT OR OTHERWISE, ARISING FROM, OUT OF OR IN CONNECTION WITH THE SOFTWARE OR THE USE OR OTHER DEALINGS IN THE SOFTWARE.