Account Balance Carry Forward

14.0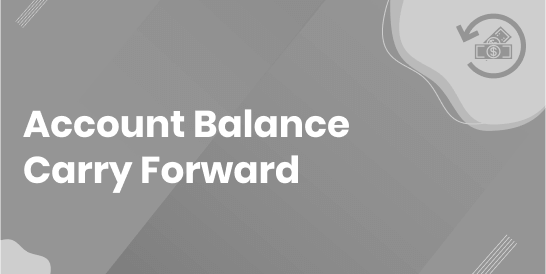 Account Balance Carry Forward
The problems
During closing periods (e.g. end of a fiscal year), reset account balance (carry the balance forward to the next period) for some accounts is a really heavy job. To get it done, accountants would need:
To have good knowledge of their country's accounting standards on which accounts to be reset
Calculate balance of the required accounts at the time of closing period. This also brings heavy workload to accountants and may get trouble by human errors
Key Features
Accounting Advisor / Manager can define account balance carry forward rules. For example,

521 -> 511
511 -> 911
etc.

Accountant can create a carry forward document which will automatically

load all the applicable rules
calculate the balance of all the source accounts, which will be carried forward to the next period for reviews

Upon validation of the document, Odoo will create accounting entries for each rule. It also respect the cummulative balance by ordering. For example,

Balance of the account 521: 100

Balance of the account 511: 550

The rules:

The result:

The First journal entry:

Debit 100 on 511
Credit 100 on 521

The Second journal entry:

Debit 450 (as the resul of 550-100) on 511
Credit 450 on 911

(new in Odoo 13): generate balance carry forward entries from selected journal items
Editions Supported
Community Edition
Enterprise Edition
This software and associated files (the "Software") may only be used (executed, modified, executed after modifications) if you have purchased a valid license from the authors, typically via Odoo Apps, or if you have received a written agreement from the authors of the Software (see the COPYRIGHT file).
You may develop Odoo modules that use the Software as a library (typically by depending on it, importing it and using its resources), but without copying any source code or material from the Software. You may distribute those modules under the license of your choice, provided that this license is compatible with the terms of the Odoo Proprietary License (For example: LGPL, MIT, or proprietary licenses similar to this one).
It is forbidden to publish, distribute, sublicense, or sell copies of the Software or modified copies of the Software.
The above copyright notice and this permission notice must be included in all copies or substantial portions of the Software.
THE SOFTWARE IS PROVIDED "AS IS", WITHOUT WARRANTY OF ANY KIND, EXPRESS OR IMPLIED, INCLUDING BUT NOT LIMITED TO THE WARRANTIES OF MERCHANTABILITY, FITNESS FOR A PARTICULAR PURPOSE AND NONINFRINGEMENT. IN NO EVENT SHALL THE AUTHORS OR COPYRIGHT HOLDERS BE LIABLE FOR ANY CLAIM, DAMAGES OR OTHER LIABILITY, WHETHER IN AN ACTION OF CONTRACT, TORT OR OTHERWISE, ARISING FROM, OUT OF OR IN CONNECTION WITH THE SOFTWARE OR THE USE OR OTHER DEALINGS IN THE SOFTWARE.